Allen and Patty Eckman (Allen and Patty Eckman) create amazing, amazing its airy lightness, sculptures cast from paper stock!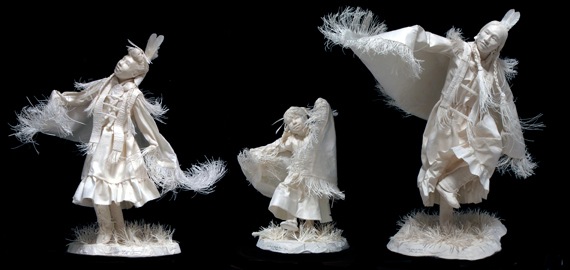 And it started with the usual daily walk on the wet streets of the city! Then - a lasting impression on Allen produced scattered along the street brochures, sop of the rain. Imprinted in them traces of hundreds of shoes and boots, in combination with the color and pattern booklets themselves, to create unique and whimsical shapes. Impressed, he began to photograph these works of passers-by. And in his soul was born the desire to meet with a paper casting a closer look.

Photo of Patty and Allen taken at the Booth Western Art Museum, Cartersville, Georgia The Eckmans' work is on permanent display at the Booth.
Especially because earlier, during his service in Vietnam, Sergeant Allen Eckman has already been conquered this ancient art. Allen went on studying at Art Center College of Design, where he met his future wife - peyzazhistku Patty. Over time, they migrated to Los Angeles, where he opened his own advertising company.
By this time, Patty has fully shares and supports the "paper" craze Allen. Together, they invented their author's method of molded pulp (Eckman Method ®), based on the ancient Japanese technology. They were unanimously selected and the main direction of the work - the theme of the history and life of the Native Americans - American Indians. After all, the great-great-great-grandmother of Allen was a Cherokee.
About the casting Allen Eckman says, "Casting - this is the easiest part of our work. On the way out, we get a rough blank that has nothing to do with the finished sculpture. On the drawing of a sculpture of parts we wife takes three weeks to 5 months! And only after that, loutish paper log acquires its true form ".
« When I look at a flower, I see not only the color and shape. I see weird shapes and images that emits a flower! "..." We pay our sculptures part of his soul. And if they are stirred up in your long-forgotten feelings and memories, then we did not work for nothing! "- Adds Petty.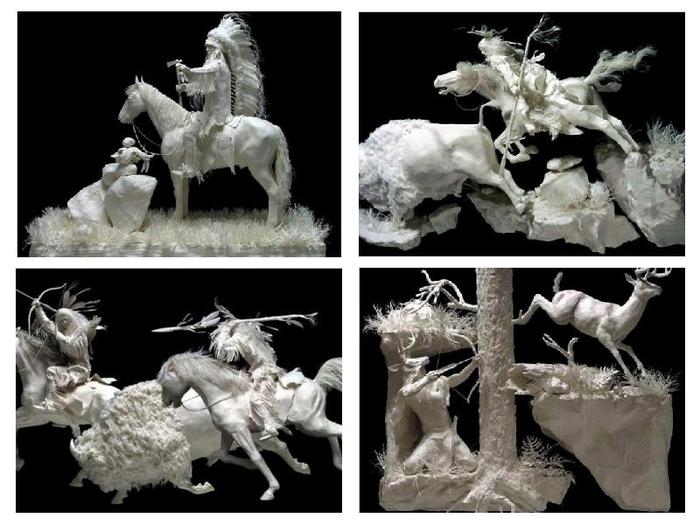 http://forum.artinvestment.ru/blog.php?b=245566&goto=next
Sources BLOG . Dona
http://lapaletteetlereve.eklablog.com/allen-and-patty-eckman-c
24335817#!/allen-and-patty-eckman-a102819315